Our iconic sports club has a range of premium and versatile facilities available to everyone. 
Sports halls 
Squash courts 
Studios 
Dojo 
Spectator seating
At UoB Sport & Fitness, we have facilities and equipment for:
14 badminton courts 
6 squash courts
14 table tennis courts
All our courts can be hired by both adult and junior members and non-members with Pay & Go.
Equipment hire is now available for Badminton, Squash and Table Tennis. Find out more about equipment hire in the 'how to book' section below.
At UoB Sport & Fitness, we have facilities and equipment for: 
3 full basketball courts and one half-court
3 full netball courts and one half-court 
3 volleyball courts
dodgeball
handball 
korfball 
indoor football / Futsal
Basketball courts (full or half-court) can be hired by both adult members and non-members with Pay & Go.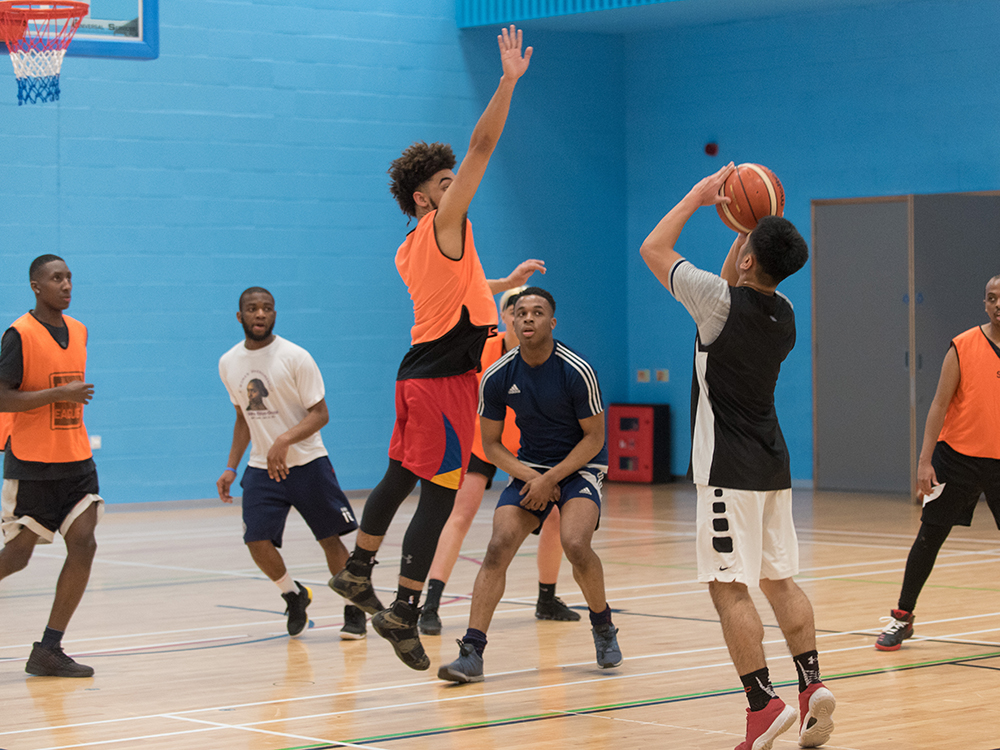 Our 300-metre-squared Dojo can be used for a range of martial arts classes and training. 
It is a fully matted area with a mirrored wall.
This area is only available to hire for regular group bookings. 
Our Munrow Arena and Slater Hall can also host: 
Trampolining 
Fencing 
Archery
Other multi-game or activity events
You can book the following courts for one-off recreational use online:
Badminton
Squash
Basketball
Table Tennis
Sport & Fitness members, students and staff of the University of Birmingham can log in with their University email address (request a PIN via the forgotten your PIN? link if you do not have one).
If you are not a student or staff member of Sport & Fitness and have not booked anything with us before, please create an account before you book.
If you'd like to book our facilities for regular training sessions for any sport or activity with an organised group, please complete a facility hire booking form.
Before you complete the booking form, you can review the prices for all our facilities, and the specification of all our facilities below.
FACILITY HIRE FORM
Our indoor facilities have hosted a range of events including:
British Junior Open (squash)
3 x 3 Ball Out Championships 
Birmingham School Games
England Netball Training Camp
Birmingham International Fencing Tournament
Equipment hire is available for the following sports and items:
Badminton - Rackets and shuttlecocks
Squash -  Rackets and balls
Table Tennis - bats and ping pong balls
All equipment is available to hire from Sport & Fitness reception. Equipment hire is £1 and non-refundable.
Anyone hiring equipment will be required to leave their ID card at reception. This will be returned once all equipment has been returned.
Facility Prices for Regular Bookings
Munrow Sports Hall Peak

£60.70

Munrow Sports Hall Off-Peak

£48.50

Meeting Room

£38.60 / £88.20

Cycle / Ergo Studio With Equipment

£52.90

Cycle / Ergo Studio Without Equipment

£40.80

25-metre pool (1 lane)

£28.70

25-metre pool (whole pool)

£137.90

50-metre pool (1 lane)

£44.10

50-metre pool (4 lanes)

£137.90

50-metre pool (whole pool)

£275.60

Squash Court Off-Peak

£6.10
Prices may vary depending upon your specific request. These prices do not apply for Pay & Go or event bookings.
Game-changing venue for events