This sports bursary is funded by the school of Physics and Astronomy and is open to all sports people who have applied to study an undergraduate course within this school.
The University of Birmingham has one of the largest schools of Physics and Astronomy in the country, with excellent reviews for undergraduate teaching (NSS) and a grade 5 in the most recent (2001) Research Assessment Exercise.
With a high academic standards and the added bonus of a sports bursary, Birmingham is a great place for sports performers with a passion for physics to study.
The bursary is subject to the recipient maintaining predetermined very high academic and sporting standards. If you have any questions about this bursary please contact Admissions Tutor for the School of Physics and Astronomy at: 
[email protected]
Alumni Physics Bursary recipient Pamela Relph (far left) – 2-time Paralympic Gold Medallist in LTA Coxed Fours, Rowing (London 2012 and Rio 2016)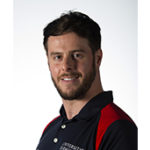 HUGH SPROSTON
Sport Scholarship Manager
Helen Waters
Sport Scholarship Officer