ROYAL AND ANCIENT GOLF BURSARY SCHEME
Each year the R&A invests more than £300,000 in student and university golf. Currently, the R&A supports golf programmes at fifteen universities and awards 100 individual foundation scholarships to players from all over the world.
CRITERIA FOR CONSIDERATION
Individual applicants for the R&A Scholarship must be in full-time, tertiary education. Male applicants must hold a handicap of +1 or better, while female applicants must be 2 or below. Applications will also be considered for players who have been selected for a national team or squad, even if they do not meet the handicap requirements.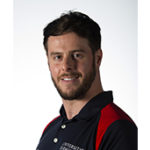 HUGH SPROSTON
Sport Scholarship Manager
Helen Waters
Sport Scholarship Officer