PERFORMANCE SPORT
SCHOLARSHIPS
Performance Sport Scholarships – which consist of those available within our 7 Performance Sports and also BUCS Performance Scholarships – are aimed at supporting those talented student-athletes that do not quite meet the Elite Dual Career Athlete Pathway (EDCAP) criteria, but still demonstrate the potential to make a significant impact within BUCS 1st teams and at BUCS Individual Championships.
The University of Birmingham's 7 Performance Sports are: Athletics, Hockey, Squash, Netball, Rugby, Swimming and Badminton) and Performance Sport Scholarships offered within these are selected, awarded and managed by the respective Head Coach. Therefore, for more information about what support may be available to you via these awards and how to apply, please see below.
ATHLETICS
Head Coach: Luke Gunn
Lead Endurance Coach: Dean Miller
Lead Power Coach: Jade Surman
HOCKEY
Head Coach: Chris Davis



SQUASH
Head Coach: Jon Tate



NETBALL
Head Coach: Wesley Blair
SWIMMING
Head Coach: Gary Humpage
MEN'S RUGBY UNION
Head Coach: Tom Drewett
BADMINTON
Head Coach: Lorraine Cole
BUCS
PERFORMANCE SCHOLARSHIPS
As a means of supporting a greater number of talented student-athletes across a wider range of sports, the University is proud to offer BUCS Performance Scholarships. Please find all information regarding the breakdown, criteria for consideration and application process for this award below.
Criteria for consideration
These are 1-year awards that are aimed at incoming, first year student-athletes who are likely to represent the University and can evidence potential to win BUCS points and medals in BUCS-scoring individual championships during the upcoming academic year, contributing significantly to the performances of both the Club and UBSport.
Sports in which applicants are to be considered for a BUCS Scholarship are as follows*:
*Any other sport within which there is an opportunity to represent UoB individually at a BUCS-scoring championship will also be considered.
HOW TO APPLY FOR A BUCS PERFORMANCE SCHOLARSHIP
Applications for the 2023-24 BUCS Performance Sport Scholarship programme are now closed. 
We are delighted to announce that the application process for the 2023-24 academic year is now open. Please apply via the button below.
The deadline for all BUCS Scholarship applications is Friday 24 February 2023. We will not be able to consider any application received after this date.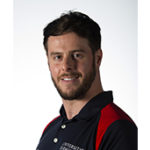 HUGH SPROSTON
Sport Scholarship Manager